Table of Contents
Notary Services at Home: Online Notary Services
Notary Services at Home: In this fast-paced world that we live in, convenience is a commodity that everyone of us values highly. Whether it's through the convenience of working from home, watching movies without leaving the house, or shopping for groceries on the internet, contemporary technology has brought the entire world to our doorstep. People who want to validate essential documents but don't want to go through the trouble of physically going to a notary office may now take advantage of a new service that provides notary services at the convenience of their own homes.
In the world of legal paperwork, the provision of notary services in private places, such as homes, represents a significant advancement. We provide ease of use, accessibility, and a heightened sense of safety all in one package. Notary services in the United Arab Emirates demonstrate how technological progress may streamline fundamental aspects of the legal system at a time when Dubai and the rest of the world are continuing to embrace the latest technological innovations.
significance of Transformation: Notary Services at home
The globe has witnessed a significant transformation in how business and personal transactions are carried out, partly due to advancements in technology. This transition has been witnessed all over the world. One such change is the introduction of remote notary services, which has completely altered the landscape of the legal industry. Because of their capacity to speed up and lessen the complexity of the notarization process, remote notary services have become increasingly popular in Dubai and elsewhere.
Notarization of Documents: Past and Present
In the past, notarization required persons to physically present themselves in the presence of a notary public, sign the necessary paperwork, and produce some form of identification. The introduction of online notary services, on the other hand, has completely changed the procedure. Notary services at home can now save your time and travel expenses. Notary services in Dubai offer services to clients at the convenience of clients own homes or places of business.
Additionally, the provision of notarial services in the comfort of one's own home improves accessibility, particularly for people who struggle with mobility or who live in distant places. Because of this service, absolutely everyone, irrespective of their geographical location or the state of their health, will have access to vital legal services. notary services Dubai can save your time and cost by offering remote notarial services in UAE. Personal or Commercial documents
The ability to perform notarization acts in the comfort of one's own home can save significant amounts of time. If you live in a busy city like Dubai, where time is a key commodity, having a notary service come to your location might save you a significant amount of time. It doesn't matter if you need to notarize a power of attorney, a will, or a property deed; a mobile notary can work around your schedule, which will make the procedure more streamlined and effective.
Online notarization of documents can also give clients a sense of security, which is especially important in today's society, where issues of health and safety have risen to the forefront of worries. You can reduce your chance of getting sick and minimize your exposure to other people by notarizing documents in the convenience of your own home rather than in a busy public location.
Getting notary services at home
Individuals and organizations now have the ability to authenticate documents without having to physically appear in front of a notary, thanks to the availability of remote notary services. This innovation makes use of the capability of video conferencing technology, which enables notaries to do notarial acts from a distance, including verifying identities, witnessing signatures, and providing notarial acts.
In addition, the use of remote notary services increases both productivity and velocity. It is now possible to notarize documents in real time, which can cut down on wait times and speed up the processing of corporate transactions, legal proceedings, or personal affairs. Individuals and businesses that are trying to finish time-sensitive transactions will find this efficiency to be extremely helpful. Remote notary services are a big step forward in the digital age, adding convenience, efficiency, and security to the process of notarization.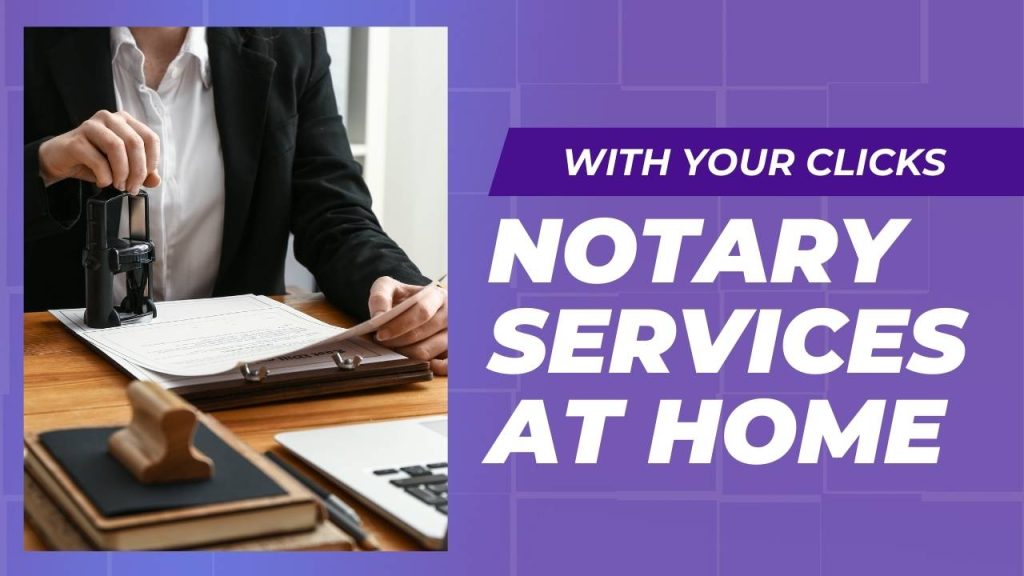 This is because remote notary services do not require the physical presence of a person in front of a notary. Their increasing popularity in Dubai and other parts of the world demonstrates the importance they have in a world that is always changing. Contact notary services in Dubai to get notary services at home. we can be reached via phone, WhatsApp, or email info@notaryservicesdubai.com