Table of Contents
Who provide notary services? A vast variety of persons and organizations all around the world are able to offer their services as notary public. Common types of providers include public notaries who have been appointed by government authorities, attorneys and lawyers, banks and other financial organizations, embassy and consulate workers for their residents who are traveling abroad, civil servants, and even online notaries who function in the digital arena.
In the process of notarization, each service provider brings their own distinct set of talents and areas of knowledge, which together guarantee the genuineness and validity of vital documents and signatures. The particular requirements of the document and the laws of the jurisdiction in which it needs to be notarized often have an impact on the notary service provider that is selected.
Who Can provide Notary Services – Private notary Services in Dubai –
In a world that is becoming increasingly defined by globalisation and transactions that take place across international borders, notary services serve a critical role in ensuring that documents are authentic and within the law. The demand for notary services is widespread across all continents and cultures, whether it be for corporate contracts, personal legal matters, or international accords. But who exactly is capable of offering these services? This article dives into the varied and complex environment of notaries all over the world, shedding light on the individuals and organisations that are charged with the responsibility of performing this vital function.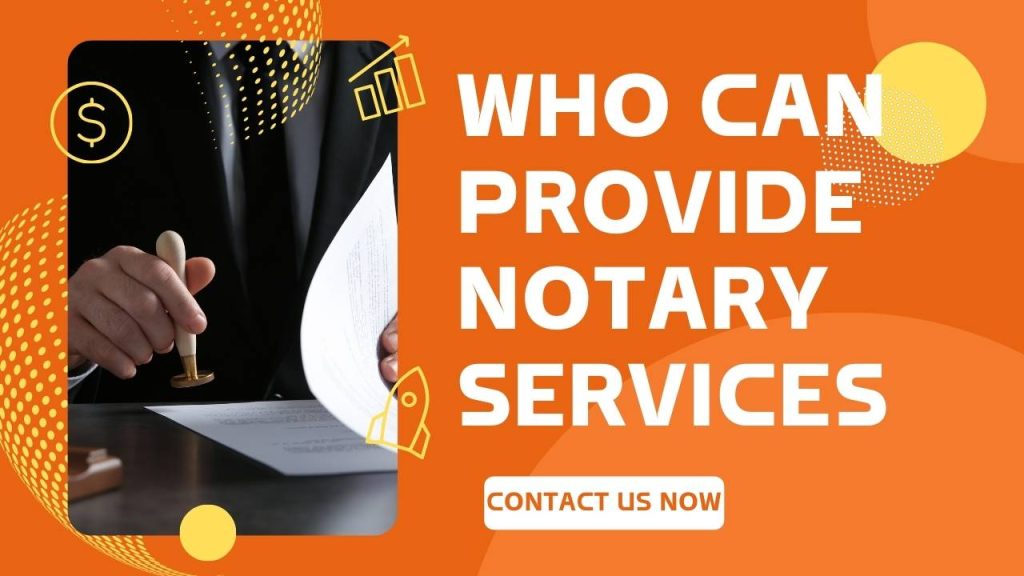 A Notary Public: Notarization Services
Around the world, public notaries are likely the notarial figures who are the most well-known and frequently called upon. The major purpose of their presence is to act as objective witnesses at the signing of significant legal papers. In many parts of the world, public notaries are either nominated by the central government or granted the competence to carry out notarial actions by a separate governing body. Real estate transactions, wills, and powers of attorney are prominent examples of the kind of issues that fall under their purview, although the extent of their authority might vary greatly from one country to the next. In some cases, oaths are administered by registered advocates.
find a Notary: Attorneys and Lawyers
In various parts of the world, legal practitioners, such as attorneys and lawyers, are authorised to also function in the capacity of notary public. This dualistic approach is typical in nations that follow the civil law model. Documents that are associated with legal processes, contracts, and other types of legal transactions can be notarized by attorneys. Customers will appreciate the ease of being able to obtain legal counsel and notarial services under the same roof thanks to this arrangement.
Did you know Who Provide Notary Services?
All Banks have notaries: and Financial Institutions:
As part of the comprehensive range of services that they provide to customers with accounts, a number of banks and other financial organisations now also provide attestations. Even though these are not normally lawyers, they are nonetheless able to notarise documents that are associated with financial transactions. Some examples of these types of documents are affidavits of identity and financial affidavits. Customers that do banking-related operations that call for notarization may find this ease to be to their advantage.
Embassy and Consulate Staff:
The personnel working in embassies and consulates around the world are frequently vested with the right to perform attestation acts on behalf of the inhabitants of the nation from which they hail. This is especially helpful for travellers and expatriates who need to notarise documents while they are away from their home country. These diplomatic notaries have the authority to authenticate papers and administer oaths for a variety of purposes, including the application for visas and legal procedures affecting their home nation.
Online Notaries: Who Provide Notary Services:
Online notary services, also known as remote notaries, are a relatively new services that has emerged as a result of the advent of digital technology. Notarizations are done by these specialists in a digital environment using methods such as video calls, conferencing, and electronic signatures. Although their importance is becoming more widely acknowledged in a variety of jurisdictions, it is important to keep in mind that the rules governing the notarization of documents online might vary widely in Who Provide Notary Services
The Importance of Verification and Authentication for the answer of Who Provide Notary Services?
The core function of a notary, which is to validate and vouch for the authenticity of signatures and documents, does not change regardless of who performs the job. Confirming the signatory's identification and ensuring that they are acting of their own free will are the two primary responsibilities of the notary services. This procedure of verification helps to prevent fraud and provides some level of assurance that the document in question is authentic. Did you know Who Provide Notary Services?
It varies from jurisdiction to jurisdiction both in terms of who can give notary services and whether or not they have the necessary permission to do so. When searching for notarial services, it is essential to have a thorough understanding of the particular rules and legislation that apply in your region. It does not matter if the notary is a public notary, an attorney, a bank official, an official at an embassy, or an notary public dubai online; The objective is the same: to guarantee the legitimacy and originality of significant papers. Let me know if you have an answer of Who Provide Notary Services?
As time goes on, our world will continue to change, and with it, the landscape of notary services will undergo similar transformations in order to accommodate the requirements of a more interconnected global community. You can reach our office for all types ofnotary services in dubai uae. I hope you have got your answer related to Who Provide Notary Services?
we are expert team of registered lawyers in Dubai who can help you with notarization of documents in Dubai. Have you been searching for expert team of registered and certified lawyers on certification of your personal or commercial document, Don't forget to count us. you can reach us anytime for legalization of your documents. We have been advising clients on all types of legal matters including setting up business, boosing us sales of business, and legal consulation on a gret of the answer Who Provide Notary Services?
Read this: [Notary Services at Home: Online Notary Services], if you enjoyed this Who Provide Notary Services article then share it with your friends on social media who want to know about Who Provide Notary Services in dubai or some where else.